The Biophosphate Plant
Biophosphate pellets from pig manure for use in low-phosphate agricultural areas
The Ecoson Biophosphate plant produces green gas from animal manure in a sustainable way, and a natural, phosphate-rich organic fertilizer pellet for use in low-phosphate agricultural areas. The plant has a processing capacity of 100,000 tonnes of manure per year. With this, approximately 6,000 tons of biophosphate granules are made annually. This biophosphate pellet is exported to phosphate-poor agricultural areas outside the Netherlands in order to simultaneously reduce the phosphate burden in Dutch agriculture. In addition, 2,500,000 m3 of green gas is supplied directly to the gas distribution network of the Eindhoven region by means of fermentation on an annual basis. This corresponds to the annual consumption of 1,700 households, with which Ecoson realizes a CO2 reduction of approximately 4,500 tons per year.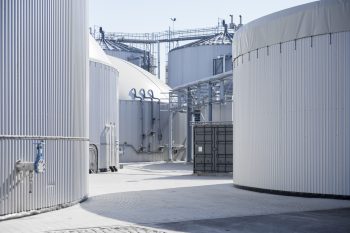 The Biophosphate plant is part of the Ecoson Energy Park, which focuses on the production of sustainable energy from natural residual products. The existing installations can be linked, creating unique synergetic effects. The digestate from fermentation is dried with residual heat from Ecoson and the thin manure fraction is cleaned in a water treatment plant that generates energy instead of being consumed. The unique and sustainable energy park of Ecoson is growing into the largest sustainable energy park in the Netherlands with this new biophosphate plant.
The fertilizer is hygienized after drying and pressed into granules. This means that biophosphate meets all quality requirements and is suitable for export to agricultural areas with a phosphate deficiency. Because phosphate is disposed of outside Dutch agriculture, this complies with the new Dutch manure policy for compulsory manure processing.
Ecoson has contracted in cooperation with Stichting ZLTO Mestinitiatief Dommelland (ZMD) and Mestac 70 farmers who supply fresh pig slurry. These farmers can now speak of guaranteed fertilization and use this structural solution for the sale of phosphate. The manure drift in the Netherlands is not solved, but a good start is made.
Status: Operated since 2014.
Facts and Figures (2015)
Animal manure processing capacity: 100,000 tons / year

Production of biophosphate grains: approx. 6,000 tonnes / year