USB-C Compatible Devices
Just because your smartphone or tablet didn't come with a USB Type-C™ charging cable doesn't mean it isn't PD-enabled and able to take advantage of all the benefits associated with PD. Let's discuss the details!
In a nutshell, Power Delivery is a revolutionary technology that supplies a high level of power, delivering faster, safer charging to PD-enabled devices such as phones, tablets and laptops. The catch? You need 3 elements to make it work:
A PD-enabled smartphone or tablet (see list below)
A Type-C connector on your charging cable to accommodate the higher level of power without damaging or overheating your device. For example, you can purchase a Lightning-to-C cable for Apple devices
A USB PD-enabled charger such as the Leviton USB Type-C with Power Delivery In-Wall Charger Outlet, which provides up to 30 watts of power on a single port!
The advantage of an in-wall charger? You DON'T need an adapter (brick). The Type-C connector inserts directly into the port on the USB outlet.
The following is a list of smartphones and tablets that are PD-enabled*: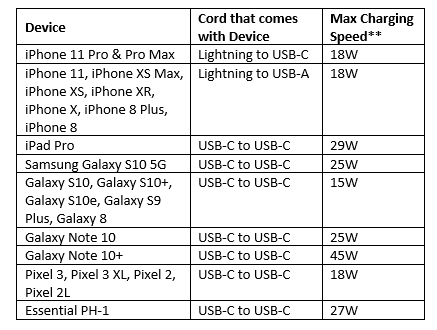 So if you've already upgraded to the latest phone, tablet or laptop – or plan to do so in the near future – be sure to upgrade your charging cable to one that has a Type-C connector and upgrade your USB Charger device to a Leviton USB Type-C with Power Delivery In-Wall Charger Outlet to get the fastest, safest charge. There's no time to waste!
For more detailed information on USB charging technology, check out our "Charging Technology From A to PD" blog.
Most popular related searches