AgriSolutions was founded in 1967, with a mission to help agricultural producers be more effective business managers. We continue to develop new ag-specific products and services including: accounting, benchmarking, business intelligence dashboards, financial and management consulting, education, software and tax.
Company details
Business Type:

Software vendor

Industry Type:

Agriculture

Market Focus:

Nationally (across the country)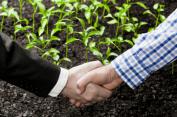 Family Farms, LLC - AgriSolutions Inc. Unify Operations Under One Umbrella
Effective January 1, 2015 the two agribusiness companies will unify as one. On that date, AgriSolutions will continue its operations under the umbrella of FamilyFarms as it's own stand-alone subsidiary of FamilyFarms Group. To continue reading the rest of the press release, click here.
Attention AgManager® Users!
AgManager Release 6.1.xx including 2016 tax tables has been reposted and is again available for download. Please proceed to the Member Area to download.

Notice - 8-11-2015 - AgManager has not been certified for use with Windows 10. The process of certification is underway and an update will be provided as soon as this process has been completed. Please continue to watch for updates regarding Windows 10 here on our website.
Apogee Solutions Corporation (formerly Agro Systems Corporation) was founded in 1967 with the purpose of providing financial accounting and analytical services to agricultural producers and small businesses. In 1995, AgriSolutions Inc. was formed to develop and market a new series of products and services specifically designed to increase agricultural producers' profits in most major commodities. AgriSolutions offers a new line of accounting, consulting, education, software and tax for producers.
Read below for more highlights and historical events in our development.
2000's
1990's
1980's
1970's
Farmco, Inc. the controlling company for Agro Systems, was incorporated and began providing accounting and farm management services in the Monroe, Louisiana area. The first services offered by Agro used single entry accounting and numeric accounts. Farmco, Incorporated's name was later changed during a merger with another of our corporate entities.