American Trailer Company, LLC
American Trailer Company began as a small side business with one part-time employee, and has grown to several employees serving the greater northeast. We continue to expand and feel our growth is based on our commitment to customer service and quality of our product, but most of all on you, our valued customer! Our staff is dedicated to helping you find what you are looking for, whether it is a trailer we have on our lot or a trailer we need to order. We are here to help serve you and make your experience the best one ever. Thank you for helping our business grow, and making American Trailer Company your choice when buying your next trailer.
Company details
Business Type:

Distributor

Industry Type:

Market Focus:

Locally (one state or province)
This company also provides solutions for other industrial applications.
Please, visit the following links for more info: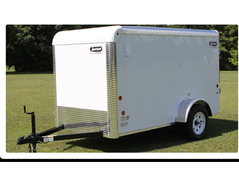 Take a look around, see if we have what you are looking for. If you can't find the exact trailer, please give us a call. We can special order the one of your choice. To start, click on the items you are looking for on the tool bar that meets your needs.
Here at American Trailer Company LLC, we specialize in all sorts of Trailers. From a small single axle 5x8 all the way up to 40' + goosenecks, dumps to utilities, goosenecks to bumper pulls.
We also have shipping available. We would be glad to get you a quote and answer any questions, just give us a call.
We are a family business running on a small over head. This combination leads to a smaller profit margin, which equals less cost for you. We advertise all of our units at that rock bottom price, so you don't have to waste any valuable time negotiating prices.