Audilet`s Tractor Sales Inc.
Audilet`s Tractor Sales Inc. has been serving the Southeast Texas and Southwest Louisiana area for almost 40 years with farm equipment. Now we have expanded our business to include construction and industrial lines of equipment to help reach a bigger customer base in our community along with our farmer customers. We have the Yanmar and Gehl lines. The Massey Ferguson Tractor line has been with us since 1977. from the compacts to the larger tractors. We also stock farm implements to go with the tractors. Come see us about your needs and let us help you fill them; we can help figure out what you will need without selling you more than you need.
Company details
View in map
Find locations served, office locations , manufacturers
Business Type:

Distributor

Industry Type:

Market Focus:

Nationally (across the country)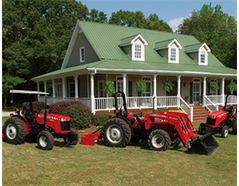 Audilet's Tractor Sales Inc. has been a family owned and operated business since 1964, when Clifton and Gearldine Audilet started fixing up tractors to sell out of their garage. We started with used tractors, one at a time at first, to fix up and resell. Soon it became a truck load from the auction that later filled the front yard. A small parts department was added, and then a small line of equipment to go with the tractors began to appear in the yard. In the mid-1970's we outgrew all of the small buildings that made up the company and built our present-day building. In the late 1970's, Clifton quit his job at Dupont, where he had worked shift work for 17 years, to devote his full attention to the business which had grown to more than Gearldine could run by herself when he was not there. After he retired from Dupont, the Massey Ferguson line was added to our line of new tractors and we have helped service them for over 30 years. The Audilets have 3 children who work each day in the business, as well as the grandkids. We look forward to seeing you and to helping you with as much help as we can. Our goal has always been to provide the best service and products to our customers so they are more than satisfied.
Our company keeps a large parts department for what we sell and the service department helps keep the equipment in top-notch shape. We also carry a full line of trailer parts and accessories, from the utilities to the heavy haulers.