Ponsse Plc
Ponsse was established in 1970 to meet forest machine entrepreneur Einari Vidgrén's own demands: the machines built by others could not withstand the heavy-duty use, so he had to build his own. Thus the first Ponsse was created, and soon everyone wanted the highly durable forest machine. To meet this growing demand for strong machines, Ponsse Plc was also soon established.
Company details
Ponssentie 22
,
Vieremä
,
Finland
74200
Finland
View in map
Find locations served, office locations and our distributors
Business Type:

Manufacturer

Industry Type:

Market Focus:

Globally (various continents)

Year Founded:

1970
This company also provides solutions for other industrial applications.
Please, visit the following links for more info: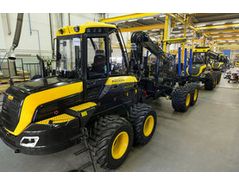 Ponsse is one of the world's leading manufacturers of forest machines for the cut-to-length method, and its customer-oriented operations are still guided by the wishes and needs of forest machine entrepreneurs. Ponsse products cover the diverse requirements of efficient harvesting faced by machine entrepreneurs around the world. Tree species vary from old pine to eucalyptus, and the machines have to endure tropical heat and arctic cold, travel without destroying the terrain and briskly climb the steepest slopes.
Ponsse specialises in the production, sales and maintenance of forest machines designed for the cut-to-length method and in the related information systems. In the cut-to-length method, tree trunks are cut to lengths in the forest to suit their intended use. At the same time, the information systems inform the end users of the types and quantities of timber they will next receive from the forest. All this wirelessly, even in real time.
Ponsse constantly develops its products and services, keeping a close eye on the new features expected by the forest machine industry and entrepreneurs. Without exception, our new products are designed on the basis of preferences expressed by our customers.
Our mission is to contribute to our customers' success with productive and reliable Ponsse forest machines and services. It is our promise to be the "Logger's Best Friend".
Family company from rural Finland
Ponsse's registered office is in Vieremä, Finland, the same place where it was established in 1970. The family of Einari Vidgrén, initially a forest machine entrepreneur, is still involved in the day-to-day operations of Ponsse. Ponsse is a family company whose roots are deep in the Finnish countryside.
The company's shares are quoted on the NASDAQ OMX Nordic List. The Ponsse Group consists of the parent company Ponsse Plc and the subsidiaries Ponsse AB in Sweden, Ponsse AS in Norway, Ponssé S.A.S. in France, Ponsse UK Ltd. in the UK, Ponsse North America Inc. in the USA, Ponsse Latin America in Brazil, OOO Ponsse in Russia, Ponsse Asia-Pacific Ltd in Hong Kong, Ponsse China Ltd in China, Ponsse Uruguay S.A. in Uruguay and Epec Oy in Finland.