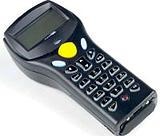 Model 8300 - Handheld Unit
From Scanners / Readers
Capability for Badge-less systems. Ability to do add time ( after the fact) or real time in the field. Ability to add new Employees in the field to each crew. Print out end of day totals in the field using a portable printer. Reporting capability for both Individual Employees for the entire Crews.
Most popular related searches
Easy Data capture and manage / Manipulate
Simple to use for field Employees
Multi grower capability
Packing House
Streamline information from the field to the Packing House
Keep track of numbers efficiently and accurately
Low cost inventory Tracking & Management
Features
IP65 rating able to withstand severe conditions, multiple drops onto concrete from up to 6 1/2 feet!
Wireless Capability
Large easy to read screen with backlight.
Fast processing / easily upgradeable.
10mb Capacity
Fully programmable
Drop down menus
Scan or key in data
Visible scans / Auto shut off
Ability to run different modules on single unit.
Fast upload and downloads / Extremely long battery running time.
Printer interface
Ability to integrate with scale system
Available in both English and Spanish text.