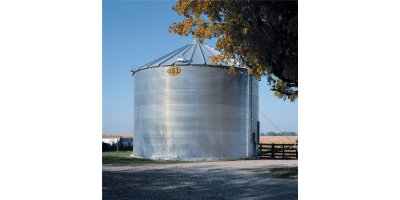 We offer complete package solutions for all your grain storage and handling requirements. Our farm series bins range in size from 15' to 60' diameter with a variety of flooring, grain conditioning, and material handling options to choose from depending on your specific application. Farm storage bins are constructed using high tensile steel sidewall sheets, up to 65,000 p.s.i. (450 MPa) minimum. A commercial G-90, bright spangle galvanized steel coating increases life and durability. In addition, only GSI is capable of providing 5 and 6 gauge steel sidewall panels for unmatched strength.
2.66' & 4.00' Sidewall Panel Corrugation
Due to the large investment, few bin manufacturers are capable of producing two 'in-house' corrugated patterns. In addition, corrugated steel from other sources that lack the proper machinery can lead to poor sidewall quality and cause delays in field construction. GSI's exclusive, roll-forming press corrugates with complete precision and provides accurate sidewall sheets every time. This process assures a tighter fit and increased weather protection.