From Automatic Milking
The tried-and-tested and dependable industrial robot technology guarantees high operational reliability. During the actual milking process, there is no technical equipment underneath the cow. This means less stress, but also a lower risk of damage caused by the cow as well as fewer malfunctions of the hardware, which makes the technology of the AktivPuls Robot 2020 unique. In addition, the special new generation laser of the robot and the advanced scan technology ensure quick and reliable connection of the teats.
Most popular related searches
'Plug and Milk' allows for a quick milking start with central technology box. The AktivPuls Robot 2020 offers you high performance for very low energy consumption. As one of its most important features, the system is equipped with a rugged maintenance-free industrial-standard robot arm with very economical annual service costs.


The stainless steel equipped milking boxes are sturdy and extremely livestock friendly. Milking without stress!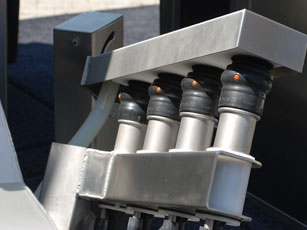 Simply start with an individual box for approx. 65 animals. If the size of your farm increases to comprise a milking capacity of up to 125 cows, you can conveniently upgrade to a double box. An economically responsible investment – this is certainly the best solution for every dairy farm!