Alumitrailer

- Direct Drive Motors Tarping System
From Dump Truck & Trailer Systems
O'Brian Tarping direct drive motors come from one of the highest respected winch and motor manufactures in the industry, Superwinch. Flip Tarp motors are 1.1 horsepower, with a powerful 90:1 gear ratio, a 5/8 worm gear, and a chrome housing. Our motors are backed by Superwinch's 3 year warranty. Replace any flip system direct drive motors with the O'Brian Tarping direct drive motor today.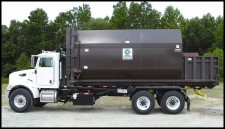 O'Brian Tarping is the only manufacturer to include in its Aluminum kits a plastic insolater to combat electrolosis. This isolator fits between any part that is mounted to your dump body system, providing a worry free, long term tarping system.
O'Brian Tarping uses 4 flat spiral torsion springs per side. These springs have been electrostatically applied with an enamel coating and CNC formed for consistent quality, durability, and shine.
Since ancient times, the arch has been the strongest design for supporting loads. Today, O'Brian Tarping employs that timeless design in its Alumitarptm aluminum tarping system. Why settle for imitations on this timeless design when you can have the original.