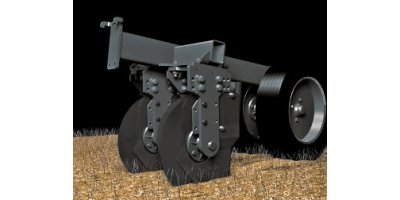 This allows the soil to lift and flow back against the packer to be re-leveled over the seed furrow.Competitive drills' gauge wheels run next to their discs, firmly holding residue and soil in place. If the residue is not cut, it is tucked into the seed furrow. Even when seeding into very wet, humid residue, Amity Single Disc Drill operators have not reported tucking as a problem. They also haven't had to wait for residue to dry.On other drills, the gauge wheel position also causes sidewall compaction, or smearing. By trying to hold the soil in place, certain conditions actually compress soil against the blade, causing a compacted seed furrow. Smeared or compacted sidewalls also inhibit root development and, ultimately, yield.
Most popular related searches
The Amity patented "opposing single discs" lift and displace the soil between the two narrow 6-inch rows. The loosened soil coming off of the twin discs, flows back against the trailing packer which re-levels and firms the soil over the seed rows. This soil displacement eliminates sidewall compaction, hair pinning, and open seed furrows while leaving a 6-inch blackened strip to encourage soil warming.
Amity Single Disc Drills eliminate hair pinning, sidewall compaction
The discs lift and displace soil from the seed furrow and create enough loose dirt for the packer wheels to adequately pack.