Auspoint Press Harrows have proven to be one of the most exciting and innovative tillage products to hit broad acre farming in years due to the versatility to work in all types of soils. The unique patented design with three spring coils, this system will eliminate mud and trash build-up with its continuous flexing action and offers the choice of a press wheel levelling harrow and a coil packer in one product.
Most popular related searches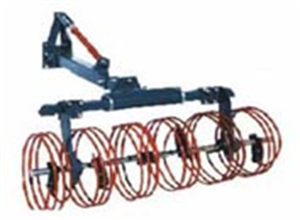 You choose and change between operations in seconds! This revolutionary technology has been developed after many years of research and trialling against many other press wheel and levelling systems.

Many current levelling systems simply do not do the job, particularly in wet, sticky and heavy trash conditions. In many cases there is a need for two or even three systems behind the seeder! The Auspoint Press Harrows however are one system and are proven to be able to level with out mud build-up and it is the continual flex that allows the press harrow to self-clean in wet and sticky conditions. In the wettest of conditions such as red loam or grey soils trash blockage is not a problem.

Outstanding features include quick-change angle and level position, with a low maintenance two bearing design. The flexing self cleaning action prevents wrapping in melon and hog-weed. This machine attachment is ideal for chemical incorporation and can break down clods in loamy conditions and leaves you with a more even and level surface. The Auspoint Press Harrow is ideal for peas, canola or lentils and is proudly Australian made for tough Australian conditions.