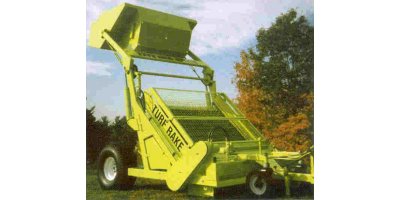 From Stone Pickers
At 2,700 pounds, the 400HD stone rake is H. Barber & Sons' moderate-size stone and rock rake. It is equipped with a two (2) cubic yard hopper that will lift 2,400 pounds of debris to a dumping height of nine (9) feet. This mid-size model uses the same heavy-duty conveyor and dump components as the 600HD. The 400HD can clean up to two (2) acres per hour.
Most popular related searches
Finisher
The finisher attaches to the rear of the TURF RAKE and smoothes the cleaned soil, eliminating tire tracks. At nine feet wide, the finisher grooms the raked area leaving it ready for seeding. The finisher elevates hydraulically when not in use for easy transport.
Hot Dip Galvanizing
Double the life of the frame by having it Hot Dip Galvanized! The entire steel frame is immersed in molten zinc. This creates a tough protective coating that is metallurgically bonded to the steel inside and out preventing corrosion.
DIMENSIONS : H: 7'3' L: 11'9' W: 7'6'
WEIGHT : Approximately 2700 lbs
CLEANING WIDTH : 6 feet
CLEANING DEPTH : Adjustable to 4'
OPERATING SPEEDS : 1 to 9 miles per hour
DEBRIS REMOVED : Stones ¼' to 4' in diameter, sod, roots, wood, branches and broken glass - See more at: http://www.hbarber.com/stonepickers/turfrake/Specifications.html#sthash.KmTkFQJc.dpuf
PERFORMANCE : Picks to 2 acres per hour
HOPPER : 2 cubic yard (2400 lbs cap)
DUMP HEIGHT : 8 feet
TIRES : 31 x 13.5 x 15 high flotation design
CONVEYOR : Of bar flight type, covered with continuous 4' wide belt, with stainless steel spring tines mounted on it.
HYDRAULIC DRIVE : Completely sealed and protected by the full flow filter. Large capacity spline mounted pump, hydraulic motor, flow control, and built-in overflow protection.
HYDRAULIC FLOW : 12 gallons per minute
HYDRAULIC CAP : 11 gallons
CYLINDERS : Lift 316 xl8' single acting Trip 2' x 5' single acting
PAINT : Dupont IMRON® Polyurethane enamel
TRACTOR 30 PTO horsepower
OTHER TRACTOR REQUIREMENTS : 540 RPM rear PTO, 3-point hitch and depending on model and options, up to 3 remote hydraulic valves with raise, hold, and float positions. Larger or smaller tractors may be used depending on beach conditions.
The TURF RAKE rock rake excels at removing rock and debris from soil to prepare it for multiple applications. Among its rock raking applications, the TURF RAKE facilitate horse track and arena maintenance,golf course creation, farm seed bed preparation, and strafing range munitions removal. In addition to these specific uses, the TURF RAKE proves effective for many other stone-picking applications.
The TURF RAKE is an incredibly versatile tool for contractors, as it can be used for functions that extend beyond stone picking. It can be modified to remove litter from beaches, sandy areas, grass, and to dethatch. See Barber's SURF RAKE beach cleaners or LITTER PICKER for more information regarding the TURF RAKE's adaptability. This versatility makes the TURF RAKE an ideal cleaner for contractors looking to work every season all year.
Stone Picking and Soil Grooming Applications
Farm Seed Bed Preparation
Strafing Range Munitions Removal
Reviews disabled
Reviews have been disabled for H. Barber & Sons TURF RAKE - Model 400HD - Stone Pickers.