Bellota

- Concavities Range
Boron steel. Hardness: 50 +/2 HRc guaranteed via the use of an automatic control system in heat treatment. This hardness ensures flexibility and the ability to absorb impacts without breaking, providing the disc a longer life-span, even in the most severe soil conditions. Lathed, precise and uniform edges, obtaining optimal soil penetration. Surpasses the ball test (tenacity test). The right disc hardness is key to ensuring the maximum resistance to disc wear, while also providing the ability to bend and recuperate the shape memory without breaking. This is achieved with a precise and controlled heat treatment. BELLOTA ensures the right hardness in 100% of its discs, due to our automatic control system: if the disc has not received the right treatment, the process automatically rejects it.
Most popular related searches
The widest series on the market, that adapts to all types of machines, axles, soil types and working conditions to be performed.
Specialised in developing customised models.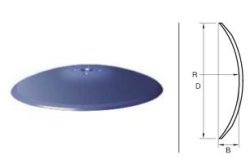 Discs for harrow and ploughs.