Carrier

- Conventional Fluid Bed Dryers
From Drying / Cooling
Carrier conventional fluid beds are designed to dry and/or cool a variety of products without the aid of vibration.
Most popular related searches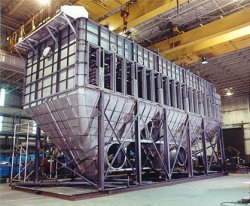 Fluid bed processing passes a gas directly through a bed of solid material via a perforated plate, nozzles, or other fluidizing media, thereby lifting and mixing the solids.
Fluid bed is established by passing gas through a bed of solids. At a certain gas velocity (the fluidization velocity), the bed will behave much like a boiling liquid.
Fluid beds can be multi-functional, i.e. drying, cooling, classifying, sterilizing, etc., in a single unit.
Continuous operation or batch.
Product is continually mixed to promote uniformity.
Easily adaptable to batch or continuous processing.
Indirect heat transfer tubes or plates can be immersed in the bed to significantly reduce size and cost of the fluid bed and increase energy efficiency.
Efficient heat transfer with low energy consumption.
Efficient processing without product degradation; gentle fluidizing action.
Vibration can be used to aid in processing more difficult products.
Sampling ports.
Variation in process by controlling bed depth, retention time, and product temperature.
Sanitary, U.S.D.A (3A) approved construction.
Easily cleaned, rugged construction, dust tight, and low maintenance.