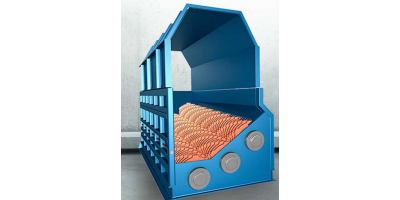 Continuous Rotary Debarker
From Debarking Machines
The whole log debarker is customized for capacity and bark levels for your mill the rotor diameter, the number of rotors, the rotor profile and rotor disc spacing are all considered when crafting your machine.
Most popular related searches
Whole Log Debarker Features
Same log flow characteristics as a drum debarker
Stringy bark, crooked, small diameter, or contaminated wood easily processed
Low loss of usable fiber
Highly effective debarking
Low energy requirements and relatively low noise levels
Open bottom design passes bark readily to discharge conveyor
Effective debarking of frozen wood without requiring de-icing
Application specific rotors with open/live bottom design.
Linear stem management
Easily retrofitted to existing wet or dry drum process flow
Debarks shorts and tree length stems in the same flow
Shorter footprint than drum debarkers
Debarker Suitable Applications
Pulp Mills
Satellite Chip Plants
OSB Plants
The live-bottom rotor design has no plates between rotors to restrict the removal and passage of bark. This results in maximum capacity for the foot-print required. Simple chuting below and a conveyor provide bark removal below the debarker.
Each debarker is sized and designed for the specific capacity and bark level requirements of the individual mill. The appropriate rotor diameter, the number of rotors, the rotor profile, and rotor disc spacing are all considered when sizing and designing a debarker, as are log species, diameter, and operating conditions.
Adjustable gate height to control dwell time and discharge of logs from the debarker
Acrowood and our predecessors, Sumner Iron Works and Black Clawson, have supplied debarkers for decades. A variety of mechanical debarker types have been supplied, along with the industry leading (at the time) Bellingham Hydraulic debarker.
Simple, robust drives use heavy duty roller chain and sprockets to drive individual rotors.