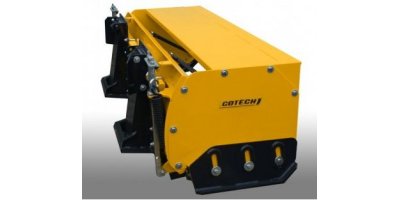 Cotech

- Model GDC24-DF-CA - Compact Snow Pusher
From Plowing Equipment
Our GDC-24 series plows with a trip system are flawlessly welded, perfectly designed for the weight of a compact tractor and powder coated to resist rust and maintain rollover of snow. The independent cutting edge allows each section of the plow to trip without affecting the rest of the frame. This series has a 24'' high moldboard made of 10 ga reinforced steel.
Most popular related searches
The 4' x 1/2' bolted on high carbon steel trip cutting edge needs little maintenance and the adjustable tension extension springs allow you to customize the trip system to your liking.
The frame and reinforcements are made of 1/4'' high grade steel and the plow includes replaceable cast iron skid shoes. The anti-shock wings are 24'' H x 24'' W x 1/4'' thick and include wear shoes 1/2 x 1½'' with braces. The closed top is bolted onto the wings and includes a welded 4'' x ½'' cutting edge for back dragging snow in tight places.
The tension of the trip system can easily be adjusted using the bolts located on the springs themselves