The SWT5 Miniature Tensiometer is very compact and creates minimal soil disturbance- it can be used in confined spaces such as plant pots. It has a water filled shaft and cup -and is therefore not frost resistant. A precision, water-filled, ceramic cup tensiometer with good accuracy (± 0.5kPa) over the range +100 to -85 kPa in the case of the SWT-5, and +100 to -160 kPa in the case of the SWT-5x. Shaft lengths from 20 to 200 mm are available; the ceramic cup is only 5mm diameter and 5mm length. Cable length 1.5 m with 4-pin plug M12/IP67.
SWT-5 Miniature Soil Tensiometer
Excellent accuracy in wet and irrigated soils
Compact size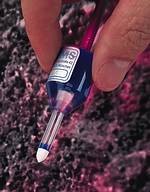 Applications include monitoring crop water stress, irrigation scheduling and tracking gradients of hydraulic potential when analysing directions and rates of water flow. Their ability to respond to positive hydraulic heads allows them to monitor water table height when submerged (and the overburden, if present).

The SWT range of tensiometers requires a stabilised 10.6V DC, 1.3mA power source. A DL2e Data Logger, with a TVB1 Voltage Regulator can power and log up to 30 tensiometers (or 60 with special cable arrangements). Alternatively, a GP1 Data Logger, fitted with up to two GP1-PBA-X50 adapter board can log 1 or 2 tensiometers.