DRTS

- Drip Irrigation Production Lines
DRTS sells turnkey production lines for producing drip irrigation tubing with integrated emitters. We offer machinery that is high speed and high quality yet very simple to operate. We have chosen intelligent and robust mechanical solutions rather than high technology and high maintenance options. This has a two fold benefit: A simple and small workforce (1-2 persons) can operate an entire production line, and production down time is minimized (you never have to wait for a laser technician in order to get your machinery back online).
The above video shows the complete manufacturing line for producing drip irrigation pipe with inline round drippers. First the cylindrical emitters are oriented in a single file linear fashion and fed into the molten irrigation pipe at a specific spacing determined by the operator interface on the inserting machine. When the drippers are inserted into the polyethelene (PE) pipe they bond with the inner surface of the pipe. The pipe is first fed through a vacuum/cooling chamber and then through a second cooling chamber in order to solidify the pipe. The pipe then travels through the high speed dripper perforating (drilling) device capable of drilling 300+ drippers per minute which drills 2 or 4 water outlets on each dripper. The pipe is then cut in coil lengths determined on the operator interface of the inserting machine and coiled in an (optional) automatic coiling machine.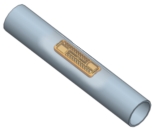 DRTS has been a world leader in supply of production lines and drippers for the drip irrigation industry for many years. We are proud to add to our offering the production line for flat inline dripper laterals, as well as the flat drippers used in the manufacturing process. The DRTS production line for flat drippers features an insertion and perforation rate of over 600 drippers per minute. Our dripper manufacturing facilities worldwide support our clients who buy the production lines with their dripper needs. We offer technical assistance with planning and design of your new factory for drip irrigation pipe