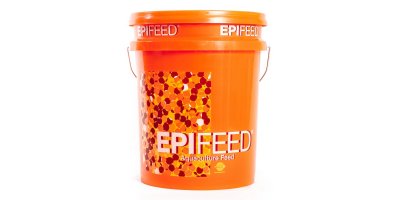 EPIFEED

- Model MBF - Advanced Shrimp Maturation Feeds
From Aquaculture Hatchery, Raceway and Growout Feeds
EPIFEED-MBF is a specially formulated dry diet that provides excellent nutrition for maintaining prolific spawners and for improving reproductive performance. It represents an enormous step towards a bio-secure system in all production areas by replacing fresh natural feed.
Promotes maximum attraction and nutrition to stimulate reproduction.
Eliminates the need for fresh natural feed, including polychaetes and thereby improves biosecurity.
Maintains a stable feeding regime during the year, eliminating production fluctuations caused by variability in the quality and availability of fresh diets.
Eliminates the need to have large cold storage areas for fresh diets so saves money.
Does not foul maturation tank water so reduces water exchange.
Increases mating and egg/nauplii production rates.
Offers favorable cost savings compared to fresh natural diets.
EPIFEED-MBF is made from high quality sources of marine proteins, lipids and glandular extracts to promote maximum attraction and to meet the full nutritional requirements of adult marine shrimp. It is processed at low temperatures to assure the ingredients selected are not degraded in feed processing.
Product Data
Parameter: Value
Form: Pellet
Size (length x diameter) (mm): 7x3
Protein (%): 43
Lipid (%): 11
Fiber (%): 3
Ash (%): 11
Moisture (%): 9
Product Storage
Recommended storage temperature is 5 to 25° C.
Do not store continuously at temperatures above 40o
Do not freeze
Store out of direct sunlight in a well-ventilated area.
Shelf Life: Shelf life is two years if stored as recommended.
Packaging: Plastic pail containing 10 kg.