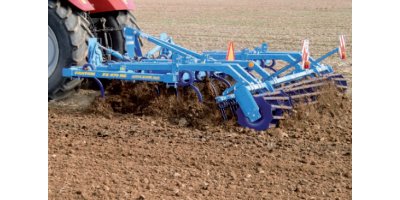 From Share Cultivators
Due to its design, the Fantom NS cultivator is very versatile and can be used for stubble breaking, pre-sowing soil processing or incorporation of manure. Machine's low weight decreases by loading of the rear parts of tractors during transport. Thanks to its simple and massive design, the Fantom cultivator offers an optimal compromise between the acquisition price and utility value.
Most popular related searches
High performance and quality of work
Low traction resistance and excellent mixing of the soil due to the optimized design of ploughshares.
Precise deep guiding with optimum soil compaction.
Excellent penetration of the tines into the soil.
Maintenance-free working units fitted with plates of cemented carbides for minimal wear.
The design of the ploughshares ensures high passability for plant residues.
Easy operation
Due to minimum of adjusting and lubricating points the operation and sub-sequent maintenance are very easy steps that anybody can perform. Setting of the working depth or levelling harrows is a simple mechanical adjustment of the machine in this case.