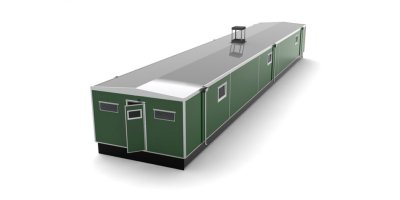 From Portapig Housing
Portapig housing is a well established product and has now been manufactured for over 20 years. Over 900 houses have been manufactured and delivered to every corner of the UK and Ireland as well as European countries including France, Holland, Belgium and Germany. Farrowing buildings can be supplied as a single unit to accommodate 6-20 crates. Any building can be further divided into separate rooms. For example an 18 crate building can be divided into 3 rooms with 6 crates in each, or a 20 crate building into 2 rooms with 10 crates in each. Single Farrowing buildings are often placed side by side and can be linked by a forward passage giving the same working environment as a large static building. Portapig Duo Farrowing buildings can be supplied in modules of 24/28/32/36 or 40 crates as one complete building and these can be subdivided into 2 or 3 individual rooms.
Most popular related searches
20 pen Portapig Farrowing building fitted out with standard equipment including galvanised crates and come with stainless steel troughs. There is combination of cast iron and plastic flooring. The pens are complete with electric heat pads and a 500mm PVC board with stainless steel post penning system. Drinking is provided for the sow and piglets to individual customer specifications.
Plastic slatted flooring supported on non corrosive fibre glass beams with option for cast iron flooring under the farrowing crate pen standard system
Pen size 2.5 x 1.7m
500mm x 35mm silver grey PVC penning with stainless steel supports
Finrone crate complete with a stainless steel trough, water pipe and nipple with an option of a water valve system c/w split trough for water and feed
Electric flush fitting heat pads supplied as standard. Normally controlled by a manual controller. Water pads can be offered as an option
White PVC double-glazed windows half of which are fail-safe. Failsafe windows are operated by cable and winch motor system. This system will automatically open and close the windows when there is a disruption or reconnection in power supply to the house. Added benefit of giving increased ventilation airflow during excessive hot spells during summer.
Ventilation designed by a cross-flow with air inlets fitted into the gable walls. The inlets are operated by a winch motor and cable and are computer controlled. These inlets will open when the fan speed increases. This gives a greater air volume but maintains a constant air speed.