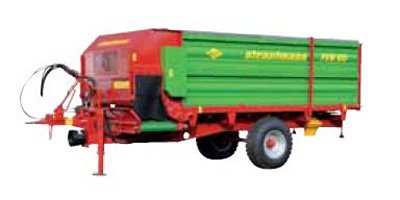 From Block / Fodder Distribution Wagon
Four different sizes, from 10 - 16 m3, are available. Whether equipped with front or rear distribution unit, all FVW models offer optimum distribution of the fodder in the stable. Due to the use of an additional mixing and dosing drum (optional equipment on the models FVW 100 / 100 H and 120 / 120 H), a mixing of the components can be reached when charging in layers.
Most popular related searches
Capacity of 10.0 - 16.0 m³
Front or rear discharge
Power required from 30/40 kW/HP
Hydraulic transport floor
Dosing drums
Excellent mixing effect when charging in layers
Dosing drums with aggressive ripping tines also process solid and long silage
Propeller shaft with cam-type cut-out clutch for protection of the power train
Optional: FVW 100, 120: with a special mixing roller which ensures further swirling of the fodder, thus achieving better mixing. (Standard equipment on FVW 140 / 160)
Crossover conveyor
Hydraulically powered crossover conveyor, ccw or cw rotation
Due to its special design (open lattice bar roller), the crossover conveyor is particularly wear-resistant.
Front or rear distribution unit (front or rear discharge)
Axle options
Single braking axle for automatic reverse overrunning brake
Optional: Spring-mounted tandem axle increases the service life of the chassis many times over
Optional: Automatic reverse overrunning brake or dual -line compressed-air brake system.
Body
Cold-formed steel side panels with cavity sealing and edge protection strip which protects the side panel when charging by means of grabs and buckets.
Solid, powder-coated steel side panels provide a high degree of rigidity
Wooden floor for optimum corrosion resistance
Transport floor
Weather-resistant wooden floor for optimum protection against corrosion
Closed transport floor strips
Hydraulic transport floor drive, infinitely variable
13 mm strong, high-strength transport floor chains with a breaking load of 21 t each for maximum load
Automatic chain tensioning device
Weighing device
Optional: Programmable weighing device with large display, easy menu navigation and a high level of reliability. 3 weighing bolts ensure optimum weighing of the fodder (not on the models equipped with overrunning brake).