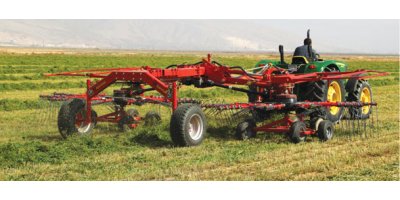 Harmak

- Model HT700 - Double Rotary Hay Rake
Adjustable Optimal Working Width: Collecting width can be adjusted by hydraulic systes as automatically. Excellent Adaptation To Terrains: The wheels under the rotories provide perfect adaptations and excellent collection in even short, heavy and wet grass in uneven and slope terrain conditions.
Most popular related searches
Easy to Transport: The wings automatically come to an upright position thanks to hydraulic system so it exhibits smooth transportation. It is suitable for bridges standards due to the height which is less than 4 meter in vertical position. Collecting arms of rake has the feature of assembling and disassembling.
Easy Disassembling of Rotor Arm: Just undo three bolts to disasseble rotor arm and rotor casing easy and quick. So that rotor and rotor arm maintenance can be effortless.
Height Adjustment of Rotor: Depending on crop and terrain, rotor height can adjust easy and comfy. as well.
Superior Maneuverability: In the model of HT-700 maneuverability is improved and also machine control is simplified by arrangement system on machine.