IRFTS

- Model Easy Roof - Industrial Roof Mounting System
Universal in roof mounting system for roofs with metallic and wooden purlins. EASY ROOF INDUSTRIAL is now able to offer a solution to meet the specific characteristics of most types of roofing, Portrait or Landscape found amongst industrial and agricultural buildings with fixing on metallic and wooden purlins. You will be able to integrate quickly and easily in Portrait / Landscape style, the great majority of PV panels available on the market thanks to its all- purpose components. All components are standard to help you to face any unforeseeable events on a building site !(i.e. : lay-out modification) Save time and money thanks to its inventive process of splint bar with no cuts and no seals.
Most popular related searches
Versatility
Compatible with all types of roof construction : wood, metal, concrete,
Extension arm to reach the next purlin,
All designs and layouts: Complete or part roof systems, any position on the roof,
Solution for roofs with slopes between 8 and 40 degrees.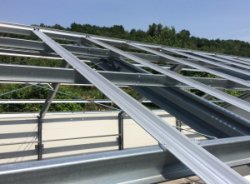 Simplicity and time saving
Adjustable assembly up to MW without cut on site,
A clever splint system ease the assembly for a perfect mechanical strength,
Minimal amounts of parts are required for the assembly of the structure.
Reliability
Integrated system with no seals,
Aluminium fixings and stainless steel fastenings to provide an ultimate resistance to extreme weather conditions.
Design
Available in mill aluminium or black finish.