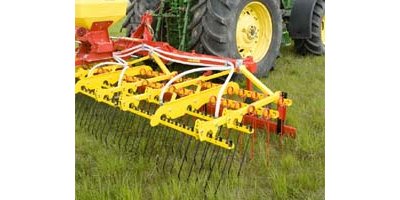 KRM

- Model GS Range - Heavy Duty Grass Harrow
From KRM - Grass Harrows
The heavy duty GS range uses a combination of 10mm and 8mm tines. The leading two rows of strong 10mm tines tear out tangles, weeds and dead thatch. The faster vibrating 8mm tines then separate material from the soil to leave more light and space encouraging more vigorous growth. Available in 3 and 6 meter widths.
Most popular related searches
These aggressive harrows feature 10mm and 8mm tines to remove more dead grass and weeds thus revealing more soil and reducing competition to rejuvenate grassland.
Where as most grass harrows feature only 8mm tines this next generation, more aggressive machine utilises two rows of 10mm followed by two rows of 8mm tines. The 10mm tines are set to work at the optimum angle by adjusting the wheels, then the two rows of 8mm tines can be individually adjusted.
Wing float wheels are supplied as standard on the GS range. They are height adjustable and mount directly on to the heavy duty chassis.
The GS range of grass harrows are ideal for over seeding or re-seeing, for our range of pneumatic seeders.