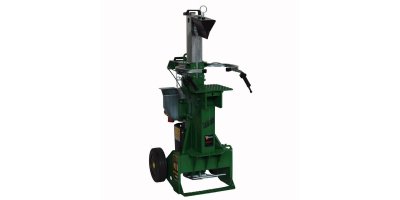 Hydraulic log splitter with vertical working position. Cutting lengths optionally 54/67/105 cm, adjustable. 1st removable table, 2nd rotating table, 3rd fixed table. Extensions for log support (optional) for a 54 cm cutting length. They are powerful, safe and very easy to use and move. The cutting force is 9 ton.
Most popular related searches
The controls are of the "System-LEADER" type (

THOR patent

).
They split very big and difficult logs with outstanding ease.
The cutting stroke is adjustable between 2 and 50 cm.
Three working positions, 54 / 67 / 105 cm, are adjustable by using the table.
The transport wheels are semi-full wheels :
20 cm dia. on the HVP and Kombi versions
30 cm dia. on the EL and petrol motor versions
40 cm dia. pneumatic (as optional only for the EL or petrol engine version).
EL = 230 Volt 2,2 kW with double pump
EL = 400 Volt 3 kW with single pump
VS = petrol motor 5 kW with single pump (version upon request)
HVP = detached PTO pump 540 rpm for tractor with single pump (version upon request)
Kombi = detached PTO pump 540 rpm + 400 Volt or 230 Volt (version upon request)
60 Hz EL engines available upon request.
Only THOR gives top value for money!

Amazing performance and manageability.

The relationship between working speed and power has no comparison!

Exclusive patents and technology, certifications of recognized European qualities, international prizes and rewards!

Very strict quality controls; components and semi-finished products of exclusive European manufacture.

35 years of THOR experience in the sector.