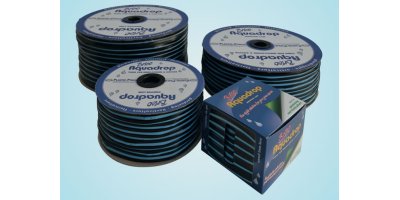 From Gardening
Brico AQUADROP is ablack color polyethylene hose with thin wall, and a blue stripe, with inside welded drippers and constant spacing.The Brico AQUADROP dripper line is suitable for drip irrigation installations and small to medium size of crops, garden plants, hedges, balconies, terraces, etc.
Most popular related searches
The entry filters in the dripper and large passages of his labyrinth reduce the risk of clogging due to water impurities.
The reduced thickness of the hose and the packaging features make this product versatile and practical, especially for the making of of "DIY" irrigation installation.
Raw materials: Medium density polyethylene additive.
Dripper line resistant to UV, micro-organisms and mold, salt water, acid or alkaline solutions normally used in agricultural crops.