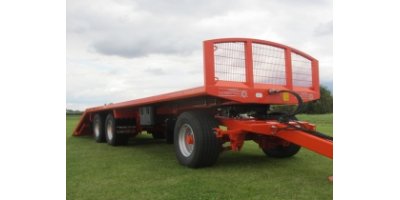 Low Loader / Beavertail Trailer
From Flat Deck Trailers
A bale trailer, box trailer, call it what you like; but flat deck trailers have been around for a while and are still the best way to transport a lot of our goods around. But it's only a flat-deck trailer, surely there's nothing 'special' or different about a Larrington flat deck trailer when compared to another flat deck trailer!? Admittedly there isn't as much that goes in to a flat deck as a tipping trailer or ejector trailer. But as with all our products, they are built to very best standards and we offer you the option to customise the trailer to your requirements. From hydraulic box pushers, to our Raise and Lower Drawbar system you'll see there's mush more to these flat-deck trailers than you might realise.
The Larrington Low Loader enables you to load and transport machinery easily while retaining the ability to use the trailer as a conventional flat-deck bale/box trailer.
Our low loader is made using underslung suspension to keep the trailer as low as possible, enabling you to keep your overall height down and keeping the center of gravity as low as possible.
Tailored to your requirements
We offer different ramp options, from standard and spring assisted ramps to hydraulic ramps or a hydraulic beavertail. Giving you the ability to opt for the solution that best suits your needs.