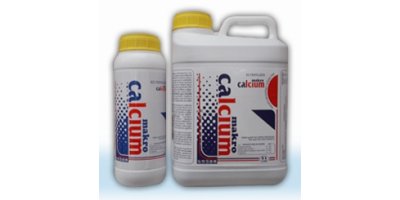 Makro Calcium

- Liquid Chemical Products
More than a calcium: Prevents cracking of fruits. Increases resistance to diseases of fruit and plant. Increases value of fruit quality, quantity and market. Builds up resistance against cold and heat for plants. Extends the shelf life and storage of sensitive fruits. Removes physiological calcium deficiency in plants.
Kelom Calcium Forte: Trough to located amino acids within giving an excellent mobility to immobile calcium.
A- FOLIAR: 200-300 cc/100 L. water
Vegetables: Beginning of the fruit period until end of harvest with 2 - 6 application
Citrus: Until the period of fruit growth and harvest with 3 - 4 application
Fruit trees: Until the period of fruit growth and harvest with 3 - 4 application
Cotton: During the product period with 2 - 4 application
Strawberry: Mounts a fruit with 2 - 3 application
Vineyard: Until the period of fruit growth and making color with 3 - 4 application
Ornamental plants: After foliage with 2 - 4 application
Sugar beet: Until four weeks before harvest
Olive: Until the period of fruit growth and harvest with 3 - 4 application
Tropical fruits: During the period of product with 2 - 4 application
B- Drip Irrigation: 2 - 3 L / da every 15 - 20 days
Vegetables: Beginning of the fruit period until end of harvest with 3 - 5 application
Citrus: Until the period of fruit growth and harvest with 3 - 4 application
Fruit trees: Until the period of fruit growth and harvest with 3 - 4 application
Cotton: During the product period with 1 - 3 application
Strawberry: Mounts a fruit with 1 - 3 application
Vineyard: Until the period of fruit growth and making color with 3 - 4 application
Ornamental plants: After foliage with 1 - 3 application
Sugar beet: Until four weeks before harvest with 2 - 3 application
Olive: Until the period of fruit growth and harvest with 3 - 4 application