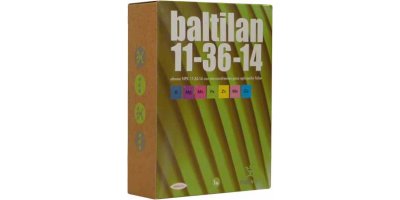 Manvert

- Model 11-36-14 - Solid Form Fertilizer
From NPK - Trace Elements
An NPK fertilizer in solid form which, due to its high phosphorous conten, encourages the processes related to the establishment of roots, flowering and formation of the fruit. Due to its balance of macro and microelements, it constitutes a nutritional complement for the crop, increasing its production and quality. It can be applied by foliar and solar spray by means of fertirrigation systems.
Composition
Total Nitrogen (N) 11,00
Ammonium Nitrogen (N) 7,08
Nitric Nitrogen (N) 3,96
Phosphoric anhydride (P2O5) soluble in ammonium citrate and water 36,00
Potassium oxide (K2O) water soluble 14,00
Magnesium oxide (MgO) water soluble 1,60
Boron (B) water soluble 0,50
Copper (Cu) chelated and water soluble 0,05
Iron (Fe) chelated and water soluble 0,10
Manganese (Mn) chelated and water soluble 0,05
Molybdenum (Mo) water soluble 0,20
Zinc (Zn) chelated and water soluble 0,05
Copper, iron, manganes and zinc chelated with EDTA.