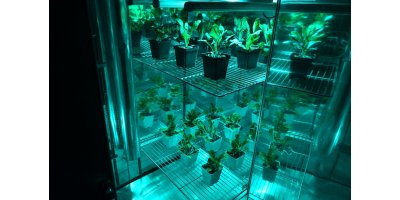 Model 505nm Cyan - LED Light Bar
From Supplemental Spectrum Lights
505nm Cyan - This efficient LED spectrum is part of our Supplemental spectrum portfolio. The fixture delivers very high PAR levels and is assembled with 505nm Cyan LEDs. Our light bars are available in multiple sizes from 24" to 72", and they are available with 5 different beam angles to help you maximize radiation capture on the plants. By minimizing the amount of light on the floor, this maximizes your growth rate and your ROI. The light bars are also IP66 waterproof rated, and they are fully dimmable to allow you to achieve the amount of PAR your plants need at each stage of their lifecycle (dimmer sold separately). Each fixture comes with the power supply and everything you need to immediately use the light over your plants.
Each LED light bar is Built-to-Order in the USA with the highest quality materials, including top-bin LEDs from Osram. By selling direct to our customers, we can offer prices substantially cheaper than any of our competitors.
Recommended for: Growers and Researchers who need 505nm Cyan light to supplement their existing lighting system.
Typical Applications: Vertical Farming / Multi-Layered Farming, Growth Chambers, Intra-Canopy Lighting, Supplemental Lighting (Vertical and Under-Canopy Lighting), Tissue Culture Labs and Research Projects.
These LED fixtures deliver very high PAR levels and are assembled with 505nm Cyan LEDs.
Use to supplement an existing lightign system or for research applications.
U.S. made, industrial quality, fan-free LED fixture.
Top quality LEDs protected by heavy spray-proof aluminum case and tough, easy to clean polycarbonate cover.
Even, edge-to-edge light with no hot spots.
Dimmable from 100% to 10% when used with our manual dimmer or controller. Compatible with any 0-10V analog dimming system.
High PAR levels with immediate power savings compared to T5, T8 and T12 fluorescent.
50,000 hour projected life.
LED Selections: (100%) 505nm Cyan
We purchase top-bin LEDs from one of the world's largest and most reputable LED manufacturer (Osram).
We use 3W LEDs in our fixtures, and they are driven at 350mA to ensure long life and high electrical efficiency. Due to the large number of LEDs we use in every fixture, we do not need to overdrive the LEDs to achieve extremely high PAR ratings.
Product Features: 0-10V Dimmable Driver (Dimmable from 100% to 10%) - IP66 Waterproof Rating - CE Safety Certification & ROHS Compliant - Built-to-Order in the USA - 3 Year Warranty - Innovative 'T-Rail' for Unlimited Mounting Options - System Includes: LED fixture/power supply/8' cord/plug/mounting brackets