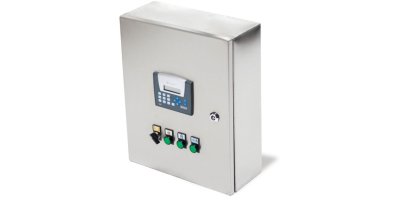 Every farmer spends a lot of time for cleaning of the barn and milking parlor. Milkplan offers innovative washing method that meets all CIP requirements and relieve the producer from the time-consuming and tiresome process. With the new automatic washing system MP Armektron Pulse & Wash, the pushing of one button only is enough. Full electronic pulsation control (12V or 24V), automatic water supply, temperature setting and control, disinfectant time and quantity, washing cycles and drainage as well as unlimited program options are available for any small or large farm.
Most popular related searches
PLC software in accordance with international standards.
PLC screen of 2 lines.
Power supply 220V.
Adjustable parameters (time, pulse number and rate, detergents dosage, washing and drainage time).
Control up to 50 pulsators 12/.
Water level control.
Stainless steel AISI 304 construction.
Operating time on-off air injector.
Terminal switch of the milk transport pipe safe position.
Automatic change of frequency and pulse rate during washing.
Dosage panel
Automatic acid/detergent dosing with peristaltic pumps 24VDC
Solenoid hot/cold water valves 24V'
Stainless steel AISI304 construction
Acid-resistant tubes
Milkplan washing tank
Capacities from 80 to 500lt
Closed construction made of stainless steel AISI304 with protective cover for a better conservation of hot water temperature
Water level electrodes
Drain valve DN50
Control switch for milk transportation pipe
Integrated heating element 6,5kW with thermostat