NanXiang

- Water Treatment Aquaculture Aquarium Plastic Trickle Filter Tube Set Media Black Cubic Bio Blocks
Bio-Block is another media that is now available to the pond world. A simple media created by the joining of net tubes into blocks' which can be used in the filter, either whole or cut to fit. This media has many advantages over others, the most important is the easy maintenance and it is almost impossible to clog with flow rates of 7500 to 10000 liters per hour per m2 of surface area. The longer it is established the better it works as the bacteria build up a filter web between the net elements and trap the finer particles. Being easy to clean without removal makes this an excellent media for all ponds. Size: 55*55*55CM,28*28*49CM,Customized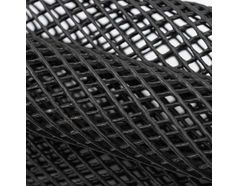 whatsapp: +0086-15814457706; Email: jane@nxpacking.cn
In biological wastewater treatment, it has unique flexibility, which can improve the capacity of treatment flow change and load.About 70% carbon dioxide can be removed and PH balance can be maintained by trickle filtration. The dissolved oxygen can be greatly increased to 5mg / L by water fall. It can also be used as solid bed packing instead of brush packing to culture biofilm and remove nitrite effectively.In practical engineering application, the structured filter media Bio Block has modular design, easy installation, no support, andcan be used in any pool type; high strength self-supporting system, lightweight and deformation free; mesh porous structure, to ensure full gas-liquid exchange, enhance dissolved oxygen content; self-cleaning, biofilm does not block. It is a new direction of packing selection.
Specific surface area for biological activity
When bacteria (biological film or biofilm) grow on a level surface, the specific surface area will remain constant even with the establishment of a thicker biofilm. Bio-block, however, is designed as a helical structure, based on oval threads with a defined diameter. If these threads become thicker due to growth in the thickness of the biofilm, the specific biologically active surface increases correspondingly.