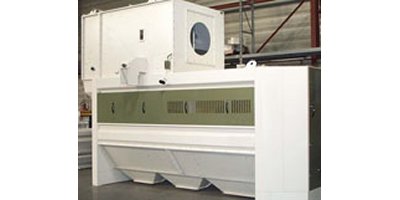 Rotary Drum Cleaner
The Chief Range of Rotary Cleaner-Graders are suitable for a wide variety of products including: Precleaner - removing rubble from grain, at high capacity, before dryer, storage, fine cleaning or processing. Cleaner-grader - combining aspiration and screens for a maximum flexibility on all products. Grader - using the full accuracy of rotary to divide grains by size. Aspirator - removing and separating light materials. 'in circuit' dust removal system - allowing varying throughput.
Most popular related searches
Precision:
Due to continuous movement and reduced vibration, the product enters more fluently in the screen perforation. This is why a drum grader is requested for precise grading. Accuracy decreases when grain bounces on a vibrating screen.
Reduced vibration:
A Vibrating flat screen machine needs stronger and more expensive stand for installation, whereas reduced dynamic force on a rotary cleaner means a lighter less expensive stand is required.
Flexible Screen Usage:
On a drum, each screen can be used for screening or for scalping, and possibly fit all needs.
Variable speed and Inclination:
Increase speed or inclination on a flat screen increases bouncing of material and reduces precision. Because of the continuous movement, these variations are very precise on a drum and can be easily controlled.
Suitable for difficult products:
Because of it's flexibility, a drum is always used to process difficult products (eg. cotton, wet maize, etc) or when an installation must be multi-purpose. Using a similar machine for both precleaning and fine cleaning reduces maintenance problems.