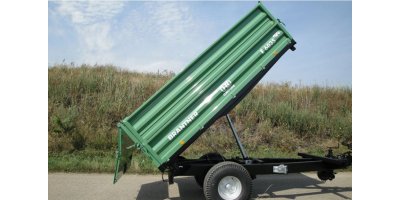 Single-Axle Tipper
From Agricultural Tippers
The single-axle tipper is a real all-purpose vehicle. Whether wood, grain, cattle, greenery or anything else - the single-axle tipper is the best choice. A variety of attachments or additional functions makes it possible that each tipper is a unique vehicle optimized to customer wishes. There is also a wide range of types of tyres are available. Because of the excellent manoeuvrability and a maximum weight from 2.5 to 10 tons the single-axle tipper is the best choice for transportation within a narrow area.
Most popular related searches
ACC 866 surface coating
Because of the innovative ACC866 coating and the 2 component painting by hot spray procedure an excellent protection against corrosion is granted.

Brake system
we offer cable winch changing brake, 2-line airbrake system, hydraulic brake, overrunning brake with moving automatism.

tipping plant
Particular strong, cardanic stored telescope cylinders with hard-chromed surface and tall height of stroke, care for trouble-free tilting.

ball tipping mounting
The self centering ball socket grants exact track - even in rough territories.

pressed section-chassis frame
Because of the cold pressed and from one piece manufactured c-sections with additional strut sections the frame is particular stable and no carriage frame problems occur.So we can easyly grant 10 years chassis frame guarantee.

self cleaning, steel plate base
The steel plate base (4 mm or 5 mm) is produced from one piece and folded at all four sides.

trapezoidal tipping frame
Near the tipping cylinder the trapezoidal tipping frame has its maximum hight. Through V-sections a very high stability at low weigh can be achieved (like truck-construction).