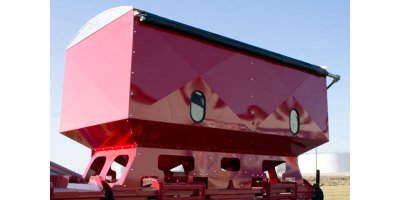 Model SM200 - Bulk Seed Container
Made for planting season, the functional SeedMobile SM200 has two compartments and an easy-to-reach roll top that provides the ideal fit on almost any seed tender, especially ours. Now farmers can have confidence knowing that this bulk seed containter will protect the purity of their seed rain or shine.
Most popular related searches
Two compartments that hold 100 cubic feet each, total of 200 cubic feet
Hopper is made from 14 gauge steel, frame is made from 7 gauge and 1/4 inch steel
Roll tarp top
Two sight glass windows
Steel forklift pockets
Totally bolted together (no weld)
Capacity (ft3) 200
Overall Dimensions 5'11' H x 10'8' W x 5'10' L
Empty Weight (lbs) 1,100
Hinged Lid Roll Top Opening 59.5' x 99.5'
Container Construction 14 Gauge Steel
Frame Construction Steel
Branding (with minimum order) Custom Branded
Approximate Height 6'
Approximate Height on SM4400S 10'
Weight 1,100 lbs.