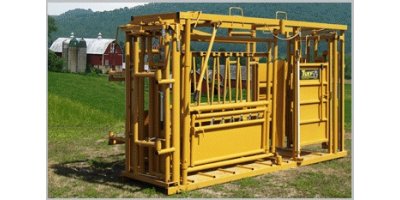 Automatic headgate (spring-cushioned). Includes Bi-Fold door and palpation cage. Neck-extender. Parallel axis sides. Adjust from 32' to 16'. Full open side (for maximum room to work on animal). Smooth open/close drop bars. Quick advance butt-bar to help move forward and prevent animals from kicking. Ribbed checkerplate floor. Sternum Bar. Total Lenght : 12'.
Most popular related searches
The squeeze adjusts from 16' to 32'. With parallel sides, both sides come in evenly so cattles are not pushed over.
Quick advance bar makes it easier to position stubborn cattle.
Drop bars for complete side access of cattle.
Bottom doors swing open.
Brisket bar to prevent cattle from dropping down in the chute.
Slik bi-fold alley gate that can be operated from either side.