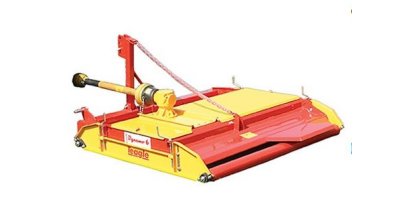 Teagle

- Roller Mowers
Overlapping rotors ensure 100% cutting over the full width to produce a high quality professional finish. A smooth underside assists the flow of cut material through the machine, whilst a rotor divider and deflector assist an even spread of cut material across the width of the mower. Fit the optional mulching kit and front roller for a finer finish.
British Built Quality
Our Roller Mowers incorporate high strength pressings and an impressive driveline and blade system resulting in a very robust machine.

All machines built at our factory in Cornwall are now Shot Blasted and finished with Powder Coat paint for outstanding durability.
Overview
Available in two cut widths:

Dynamo 6 : 1.83m,

Dynamo 8 : 2.45m.

Dynamo 6 fits Cat 1 and 2 linkage , Dynamo 8 fits Cat. 2 linkage.

Straightforward screw height adjustment.
Height Control
Cut height is adjusted with ease from 12mm to 100mm by means of jacking screws at each corner of the mower. Simply slacken off the clamp bolts, turn the screws to give the correct cut height (measured against the height gauge) and then re-tighten the clamps.
Attention to detail
Hardened spring steel blades pivot on hardened bushes. The blades are cranked to reduce the possibility of stone damage, and to lift the grass as it is cut. The tempered spring steel blade holders (double decked to prevent whip and distortion when the machine is operating) provide yet further protection against hidden objects.
Carefully positioned dividers and deflectors underneath the machine ensure an even spread of cut material. This is further assisted by the turbulence created by the blade design. Rotors overlap to ensure effective cutting across the entire width of the mower.
Driveline Protection
A shearbolt is fitted to the PTO shaft for extra protection.
Belt Drive
Rotor drive is through a heavy bevel gearbox, direct to one rotor and through a 'V' belt to the other rotor. The belt is tensioned via a large diameter idler pulley using a screw.
Pivoting Headstock
A slotted pin connection allows the machine to follow ground contours and produce an even finish.
Mulching Kit
Both the Dynamo 6 and Dynamo 8 models are available with an optional mulching kit to produce extra chopping and even spreading. The kit comprises additional special mulching blades mounted on hardened bushes.
Front Roller
A front roller helps prevent scalping at very low cut heights. Not recommended when cutting long grass.
Overrun PTO Shaft
The optional overrun PTO is recommended when the machine is fitted to a tractor with either a braked or 'live' PTO.
Hydraulic Offset Kit
A hydraulic ram is available as an option for easier offsetting in the field.