Tenax

- Shading and Windbreak Nets
From Agriculture
Excessive exposure to the UV rays constitutes one of the greatest risk factors to crops and failure to take the right precautions can result in damaged crops and severe financial losses. The varying climatic conditions throughout the year, together with the slow but constant rising temperatures in the summer months prove conclusively the need for shade nets to maximise growth and crop yields. The technological advances in the production of shade nets guarantees their quality and offers many advantages over traditional materials: lightweight, ease of handling, durability and the correct diffusion of light.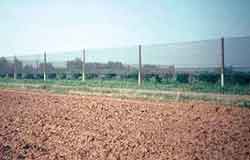 Investment in modern and effective windbreaks in an agricultural environment can offer long-term benefits by guaranteeing better quality and more abundant crops.

Strong and severe winds are one of the biggest problems growers have to face, therefore, the erection of windbreak structures is a vital element in protecting crops from damage.

In addition to reducing wind speed, windbreak barriers also act as a defence against hoarfrost, low temperatures and hail. Windbreaks will benefit field crops, vegetables, flowering plants and fruit-trees.

They also protect crops against the winds blown from the sea that are harmful because of the high content of salt. Depending on the structure of the net, it is possible to reduce wind-speed by 30% to 50%.