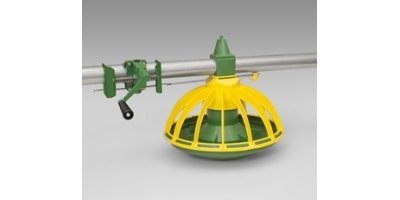 From Poultry Farming Equipment
Long experience gained in poultry farming equipment sector and close collaboration. with poultry farmers has led to the creation of a wide range of feeding systems.
Strong and ergonomic, CIP allows easy access to feed right from the first days.

The original Sperotto Feeding System has got the unique and revolutionary F.L.D. (Feed Level Device) which guarantees the simultaneous adjustment of the feed level on all the feeders in order to facilitate the chicks feeding. That means:
no more feed waste
outstanding feed conversion rates
uniform distribution of fresh feed
The three feed level probes ensure a thorough delivery of fresh feed in all pans. The pan feeder is made of special non-toxic, shockproof and acid-resistant plastic. The maximum length for the feeding line is m 150. The best way for breeding on floor in order to avoid waste of feed and to guarantee an accurate feed level regulation.