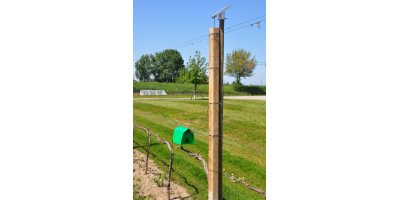 TRAPVIEW

- 4 high-resolution Cameras
From Insect Monitoring
TRAPVIEW is a Pheromone Delta Trap, with 4 high-resolution cameras that take daily pictures of the sticky plate, enabling near real-time indication of pest ocurrances and quick control actions.
The TRAPVIEW, with its integrated electronics and sticky plate, is light enough to be hung where needed. In the field, the device is self-sufficient, being powered by a solar panel and a battery.
Multiple cameras take high-resolution pictures of the sticky plate within the iTrap. Images are sent via GPRS to the Trapview web-platform. These pictures are analyzed with automatic pest detection with the results visible on web or mobile devices. Control is realtime and data collected can be used for further elaboration.
TRAPVIEW is a patented combination of hardware and software solutions for remote monitoring of different agricultural and industrial insects.
The enhanced monitoring accuracy and powerful analytical application will significantly increase the quality and viability of your decision making. iTrap won multiple innovation awards and is patent pending.