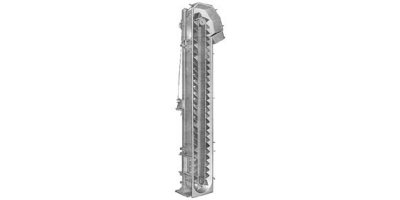 From Bucket Elevators
When total clean-out and inspection is of the utmost importance, the SC meets that challenge -- with margin to spare! For all kinds of processing plants, such as foods or other bulk solids, nothing works like a Universal SC elevator. All front panels can be quickly opened ...and the belt is easily removed for thorough and total cleaning. For even faster product changes, keep a spare belt/bucket assembly handy.
Most popular related searches
For food processing, pharmaceutical, chemical and other processes requiring the ultimate in sanitation, the Universal SC Series elevators are offered in stainless, as well as the standard carbon steel. Special belts and buckets are also offered for demanding installations. A heavy support column and a massive base plate make this a rigid, self-supporting elevator, even with all covers removed! Capacities range up to 1,000 ft3/h, with discharge heights designed to meet your specifications. Bucket Elevators up to 1,000 ft3/h.