The VAL-CO PXR system provides automated weigh-feeding of roosters. The hopper is constructed of heavy galvanized steel. The drive unit is supplied with a reliable motor and high quality gear reducer. The PXR pan feeder has a rugged poly pan with a high cone, a special PVC feed level tube and plastic grill with feed-saver ring. PXR Rooster Pan Feeder is designed for rigid mounting to the feed line. Suspension hangers are available in rigid scissor or free-hanging styles. Models also available with 8-spoke steel grill as shown above right.
PXR Drive Unit with 1/3 or 1/2 hp motor delivers feed smoothly. The control pan with mechanical switch starts and stops the feed line as needed.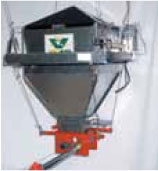 350 lb. scale accurately weighs feed. This fully suspended system is available with single or double outlet powder painted boot.
Electric Winch for male feeder line has a heavy duty frame and gear reducer. It provides automatic lowering with adjustable switches for desired feed line height – and manual raising of the feed line for filling.