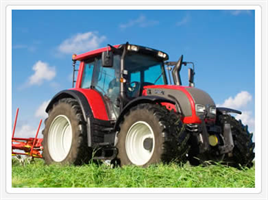 Valtra

- Model N Series - Tractor
The Valtra N is a new kind of tractor that combines the very best of performance and specifications in a balanced and functional package. Customers can choose the options required including engine power starting from the base Classic model up to the top-of-the-line Advance model which features advanced Common Rail engines, programmable transmissions and hydraulics, and suspended cabs and front axles. The Valtra N Series represents Nordic practicality at its best, encouraging year-round use; even in the most demanding conditions.
The N Series embodies Valtra's manufacturing philosophy. All primary modules are designed and built in-house. This includes the engine, chassis, transmission, powertrain, rear axle, hydraulics, cab and cladding. Our suppliers are internationally recognised leaders in their fields.