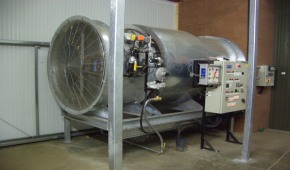 FLR Support
Drawing on our many years' experience in crop drying, we offer a range of valuable support services for crop growers. Guidelines and tips on crop drying, safe storage and self-installation of floors, walls and ducts can be downloaded from this website. Alternatively call us on 01480 495956. We are also happy to provide advice and guidance for anyone considering purchasing a ventilated crop drying system or experiencing problems with an existing non-FLR system.
Most popular related searches
The FLR consultancy service offers site surveys, design recommendations, upgrade advice, final specifications and costings. This service can be particularly useful when you are raising finance or considering the most cost effective drying solution for your individual needs.
Our aim is to offer first-class support throughout the life-cycle of your crop drying system, including advice, design, fabrication, installation, supply, calibration, maintenance, repair and relocation services.
We offer repair services on all makes of ventilated drying systems including Challow, Welvent, Lingward, Hardcastle, Holmes of Wragby, English Bros, Brackley and of course our own Flach and Le-Roy brand