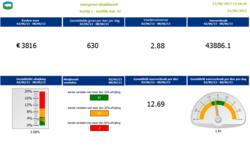 AgroVision

- Feed Growth Monitor
Feed is the biggest cost to your business. Therefore, it is important to feed efficiently. You want to know what the relationship is between the feed intake and growth of pigs, and you can, by using Feed Growth Monitor Agrovision Feed Growth Monitor data is processed automatically from the feeding system (dry and liquid) and the individual weights of the pigs (through scales and scanners). This gives you daily insight into the current performance and feed intake of pigs per pen or group.
Most popular related searches
With the dashboard you will see all your data at a glance. You determine the time and from which criterion the ratios are calculated. In our example we have chosen (from left to right, top to bottom):
Average growth / head / day

Feed conversion

Average deviation

Abnormal valves

Average feed consumption / animal

Average feed consumption / day
Feed Growth Monitor displays reports with plenty of information on the results of your business. One of the reports is Feed consumption. The example shows food consumption over a number of periods, divided by feed concept. You choose whether you want to see this on a chart or a table.