In a next stage, logistics + mobGIS can be implemented. All mobile devices from tractor to harvesters can be managed, guided and controlled via a WinGIS based dispatch center. Logistic needs for group of farmers/foresters/industries can be supported also on base of accumulated data from the farm- or forest management system.
Process- and time optimizations, where to deliver what" or "where to pick up what and when" and how to come to that location (with the help of an integrated rural Open Street Map (OSM)) as well as a just in time delivery from field to industry can be realized. The systems lead to an optimization of daily and seasonal routing, accurate information of harvest status, GPS positioned data visualization, online two-way communication between central and mobile terminals and order processing is supported. The software consists of a GIS central station and an unlimited number of mobile units ("mobGIS"), integrating GIS, communication (GPRS/UMTS) and GPS.
It handles crops for food/feed or biomass production, liquid manure deposits, forest harvesting or any other logistic task. Up to 30 % cost reductions or more could be achieved. This technology-implementation is, to communicate with all mobile devices from a central office and is the precondition for a future Precision Farming (PF) or Precision Forestry implementation.
New will be in 2017 the integration of the OSM (Open Street Map) based OTM (Open Transport Map) that allows user groups to setup a rural road network with annotations to define width, max. t, blocked on date etc. as rural roads are not roads only, in many cases they are workplaces too and need a local management.
Also in 2017 the upgrade of WinGIS Lumen with mobGIS is planned.
This overview shows the integration of mobGIS on a machine (tablet-PC), the communication with GPRS/UMTS (embedded SIM-card) and the central logistic unit in an office. The upgrade of the location from the mobile unit to the central station is software driven and within all projects a 30second update frequency was mainly used.
Communication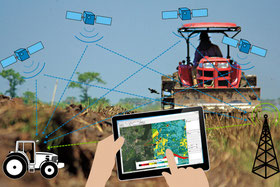 A tablet PC with the orthoimage, the target and the route gives the driver an excellent guidance to a specific field. The contract the driver gets directly sent on the tablet and the contractor can see the location with a 30 second delay on his screen as well as the color of the field is changing depending if "contract sent", "contract in work" or "contract done".
Map sample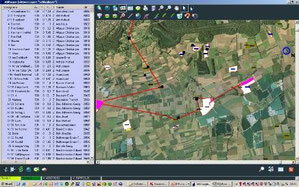 This map shows the contracted fields, fields under process and fields ready done.