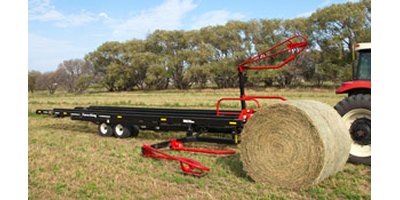 Model 1450 & 2450 - Round Bale Carrier
From Hay Tools
Bale moving just got a lot easier with Farm King round bale carriers, bale carriers that replace the old way of moving bales with a front-end loader and a flat-deck. Pick, haul and unload round bales with speed and efficiency, whether moving bales from the field or back to the farmyard. Heavy duty construction means the bale carriers are robust, yet designed to be affordable with gentle bale handling and easy maintenance. Rugged durability, proven performance and easy unloading minimizes bale damage and reduces handling costs. A hand-held control works with the tractor remotes to operate all the functions of the bale carrier. The bale carrier uses two sets of tractor hydraulic outlets. Gentle yet rugged pickup arms place bales on the deck where a pusher, powered by two hydraulic motors, slides the bales back on graphite coated carrier beams. This means efficient bale handling, less stress and more bales moved each day.
Most popular related searches
The right size and the right features The 1450 round bale carrier can carry seven 5' by 6' bales weighing up to 900 kg (2,000 lb) each in a single row. The double wide 2450 round bale carrier has twice capacity. The model 2400 is double wide, but shorter than the 2450 to maximize maneuverability.

Simple and gentle picking - After bales are lifted onto the deck, a pusher, powered by two hydraulic motors, moves the bales rearward. The pusher has two settings that are selected on the hand-held remote. The operator can choose the most efficient speed and torque for varying conditions: 'high' for dry hay and straw; 'low' provides additional torque for wet or high moisture silage bales, and the pusher moves with less speed. The heavy duty undercarriage and tandem walking beam axles ensure reliable transport to the unloading area. To unload, the operator tilts the carrier deck using the tractor control. Once the rear of the deck is on the ground, the pusher, controlled with the hand-held remote, unloads the bales in tight end-to-end rows.