Farm At Hand feature spotlight
Adding photos to your Farm At Hand records
Getting the most out of your farm information means being able to see the whole picture – literally. Adding photos to your records in Farm At Hand helps you and your farm team quickly save visual information key to your farm's success. Easily snap photos of delivery tickets so they can't get lost in the backseat of the truck. Quickly capture images of pests or weeds so your agronomist knows exactly what's happening at the field level to help optimize your yields. Or simply save a photo of your town shopping list so you don't forget important items.
Upload pictures of your farm information for faster and easier tracking. With this feature you can also:
Capture empty storage units to track when a haul-out has been completed.

Keep track of delivery slips, and snap a picture before you even leave the elevator.

Access pictures of your grading sheets for each bin on the go

Snap a quick picture of your contracts and delivery tickets keeping your information in one plac
How does it work?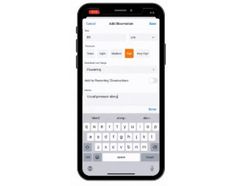 Take a peek at our step-by-step guide here to upload photos to your Farm At Hand records.
Ready to go? Log in to your account here to start putting photos into your records now.
Need to get started with Farm At Hand? Sign up today! It's easier than seeding a straight line with autosteer.
FAQ's
Q: How does photo storage work?
Watch our step-by-step guide to adding photos to records in your Farm At Hand account.
Q: What sections of the app can I save a photo in?
A: You can upload and save photos to your base level activities in Farm At Hand including: Scouting activities, Storage Records, Contracts and Deliveries and General Notes
Q: How many pictures can I save?
A: You can store as many photos as you like!
Q: What file types does FAH support?
A: Currently you can save JPEG and PNG files in your account. But stay tuned – we're working to add more file types so your farm records can be easily stored together in one place.
Q: Do I have to pay to use it?
A: No! This feature is complimentary with your Farm At Hand account.
Most popular related searches